If you've been wanting to start brush lettering but don't have any brush pens at hand, don't worry, there is a way for you to start your journey with any type of pen or pencil! Faux, or "cheat", calligraphy is a great for getting you started with learning and creating beautiful script in no time.
Thin and thick strokes
A rule of thumb for brush script calligraphy is the variation of thin and thick strokes throughout a letter. When creating the letter every upstroke is thin and every downstroke is thick. When using a flexible dip pen or a brush pen, you simple apply more pressure on the downstroke creating thicker lines.
Before embarking on creating intricate lettering pieces, it's good to know the basics and the shapes of each letter. And the best way to practice that in my opinion is faux, or "cheat", calligraphy. This will help you identify all your downstrokes while writing and create some great foundation work for when you pick up a brush pen.
Even seasoned calligraphers and lettering artists might turn to this method in cases where the writing surface doesn't lend itself well for the traditional calligraphy materials or if it favors the project the're working on.
So how does it work?
Using your normal pen or pencil draw a monoline letter in any style you like, I like to make it cursive where all the letters has entrance and exit strokes so they'll be connected in a word.
Retrace your drawn letters and be mindful of when you made upstrokes (pulled the pen up) and when you made downstrokes (pulling the pen down while drawing the letter).
Identify only the downstrokes, in the image below I've marked them in yellow
Add a secondary thick line on the right side of every downstroke.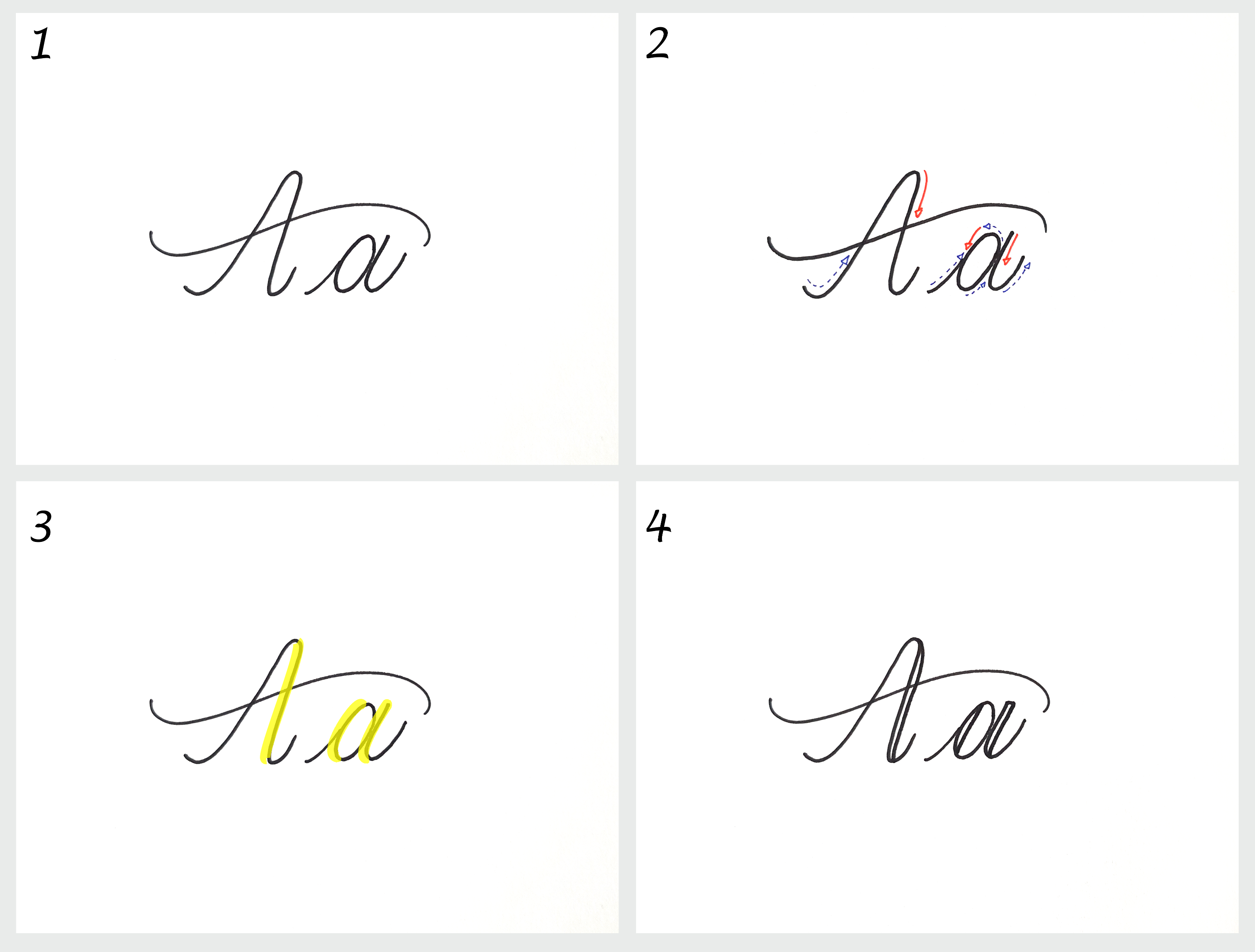 The strokes can be left intentionally blank or be filled in with your pen.
Watch the video at the bottom of the page for a quick demonstration!
Free Printable
This weeks post comes with a free printable! The alphabet was created with micron fineliners using this very technique. After drawing a monoline alphabet a second line was added next to each downstroke. Print and trace or just keep handy for inspiration.
To get access to it, subscribe below and once you confirm the subscription you'll get a link to the document. If you're already a subscriber to the site, the link is included in this weeks mail. Hope you enjoy it! And if you use any of my tips or the printable, use #showandtellrim on instagram if you want. I'd love to see your work!
Remember
Wherever you are in your hand lettering journey, faux calligraphy is a great tool.
Good for practice.
When you have unusual materials to work with create beautiful cheat brush calligraphy by first drawing words in cursive with any pen and then add a second line at every downstroke of a letter.
Leave the strokes blank or fill in with the pen or any other color pen for effect.
FREE PRINTABLE – make sure you've subscribed below and if you want use #showandtellrim to keep me updated on your progress
When do you use faux calligraphy? What do you think about it? Let me know in the comments below!