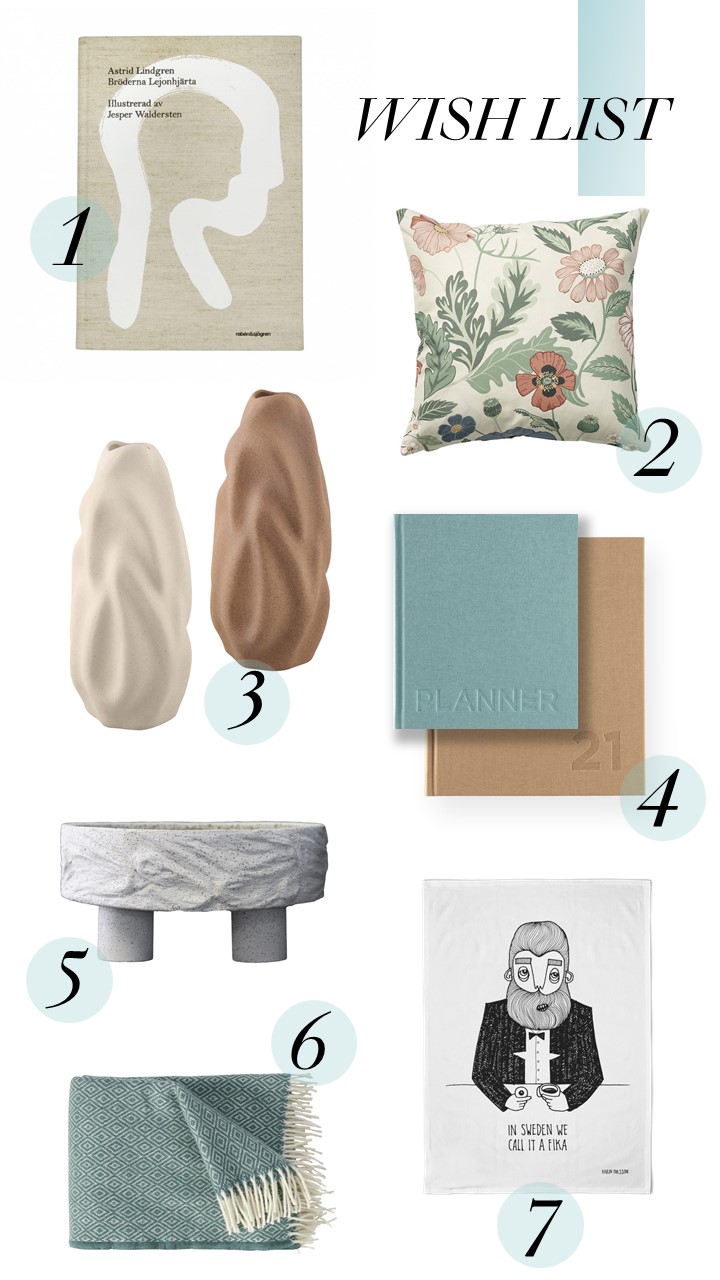 The past year has been rough in so many ways for the world and here's to hoping that better days are ahead. To cheer myself and you up I'm sharing my 2020 wishlist with the most gorgeous things I've come across from Swedish brands I adore!
This post is not sponsored in any way and does not contain affiliated links, it's just a collection of products I've fallen in love with. The list is intended to be enjoyed by all but is more directed to my followers here in Sweden, all links lead to swedish shops. Wherever you are in the world, let's try to shop small this year to support the buisnesses we love!
THE WISH LIST
1. A story that I still carry in my heart since childhood. Astrid Lindgren's book, Bröderna Lejonhjärta, with illustrations by Jesper Waldersten.
2. Amazing artist Hanna Wendelbo makes pretty patterns, in love with her Bloom pattern on this pillowcase.
3. Cooee Design vases in their new series Drift gives me butterflies, every room of my houses must have these.
4. The absolutely wonderful Bookbinders Design planners in all colors are a must have. While you're browsing the site, checkout everythinh else they have!
5. The gorgeous Clay Plate Sand, by dbkd that can be used as a pot or a serving plate.
6. Every couch deserves a throw blanket by Klippan, extra mysfaktor (mys; swedish word for cozy or cuddle).
7. And last but not least, the very talented bahkadisch wimsical illustrations brightens up any home, just see this great piece of art on this kitchen towel. You can find the print on so many more products as well.
I hope you've enjoyed seeing my picks this year. What's on your wish list? Drop me a comment below and let me know. Can't wait to hear from you!